Another five years, another five miles. We'll start at the summit of Bellevue Hill, the highest point in Boston and circumnavigate the city, staying on bikepaths along waterways as much as we can for a total of 60 miles. It will take much of the day, but you can come and go at any time. It is always interesting to see the changes in paths (and people--you might be surprised!) which happen over five years.

We'll ride down Stony Brook, then the Neponset River to Boston Harbor, then up the Harbor and around Charlestown to the Mystic River, up the Mystic River to the new Alewife Brook trail. At Alewife Station, we'll take the maybe-paved Fitchburg Cutoff trail to Belmont, then cut over to the Charles River, which we will follow all of the way to Dedham. Then it's back down Mother Brook and up Bellevue Hill at the end. There will be birthday cake afterward, and those of us with energy left will continue on to a Backyard Barnyard Stop at 8 pm (Come to your favorite Roslindale Backyard and bring your dancing shoes! Live Music by locals bands: Moniker will perform from 8:15 to 9:15 , and Miriam is on from 9:30 to 10:30. This is a Farmers Market Fundraiser at the home of Steve Gag and Laura Gang, 631 South Street.)

The ride is free.

Photos from [2011] [2001] [2006]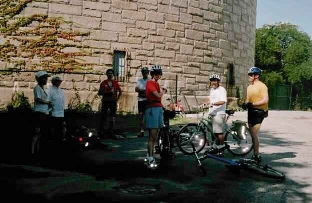 50th in 2001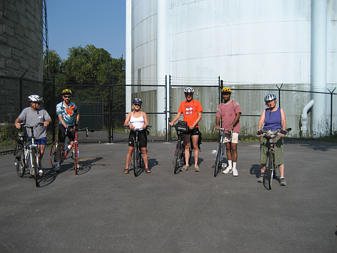 55th in 2006
Details
Where: Meet at the summit of Bellevue Hill, reachable by paved paths from the West Roxbury Parkway just north of its intersection with Washington St. or from Bellevue Hill Rd. in West Roxbury.
When: Departing at 9:00 am, Saturday, September 10, 2011
Distance: 60 miles.
Pace: Relaxed, probably 6-10 MPH.
Terrain: Some hills, but mostly flat.
Route: Mostly off-road on paved paths.
Leader: Jessica Mink
Maps and Cue sheet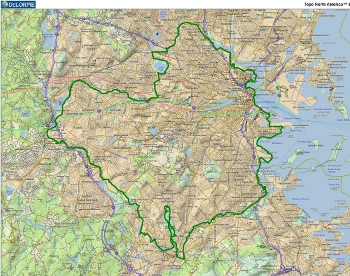 Getting There
Bicycle
Ride south from Forest Hills on Washington St. or from the Emerald Necklace on Centre St. to the the West Roxbury Parkway, and take one of the paths up the hill.
MBTA
You can take your bike on T rapid transit lines and some bus lines, (none of which go near today's ride), for no extra charge. Details are on the MBTA website.

From Forest Hills (Orange Line):
Take Washington St. up the hill throuogh Roslindale to the top and turn right on the West Roxbury Parkway and follow one of the paths on your left to the summit. The buses now have racks, so you might be able to take a 34 or 34E bus to the intersection.
Car
Find your way to Bellevue Hill Rd. either from Lagrange St., the next light south of the summit of the hill on Washington St. or Clement Ave., which parallels the West Roxbury Parkway and can be entered from Pelton St.
Bailout points
Since we're going around the city, you can always head back in. We'll pass several Red and Orange Line subway stations and later Green Line stations.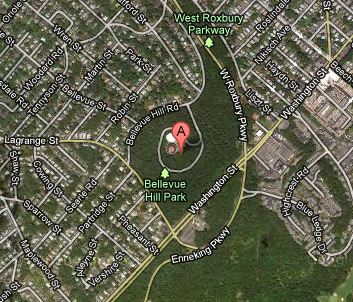 Click for Google Maps